All American Backpack- Radios from their beginning (1938) till 1990 are in the collection. The chart can be used as quick navigation between the radios.

US Backpacks



---

GRC-5

is the set illustrated above, consisting of:
R-109, RT-67 with power supply PP-112 and RT-70 on a mounting. Everything together weighs 160 kg. Below the Mounting the box C 435 is found, with relay operation and duplex operation control.

The entire device consists of single sets, different compositions have different names. (e.g. the Transceiver RT-68 in the picture below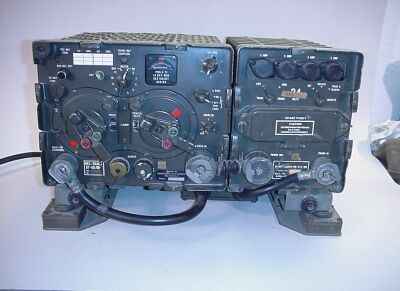 together with the power supply PP-112 on a Mounting is called VRQ-3,

And here the single devices:

Receivers:
R-108: 20... 28 MHz.
R-109: 27... 39 MHz
R-110: 38... 55 MHz
Transmitters:
RT-66: 20... 28 MHz
RT-67: 27... 39 MHz
RT-68: 38... 55 MHz
RT-70: 47... 58.4 MHz

---
Technical data:
Operating mode:

F3 and F2.

Transmitting power

adjustably, 2 Watts / 16 Watts

Range

vehicle driving: 15 km,
vehicle standing: 25 km.

Frequency setting during Transceivern:

tunablly and adjustably

Frequency setting with recipients:

tunablly.

Sensitivity,

under 0,5 UV during 28 dB signal-to-noise ratio.

Operating modes

1) Intercommunication on a frequency
2) Intercommunication by remote access
3) Remote access from a local or distant control device
4) Intercom

Available accessories:

Bag GW-189 (contents: local and distant control device)
Bag VRC8 (contents: flagpole antennas, tube box, switchbox, headphone, laryngeal micro, headphone/micro)
---
The chart you see below explains what the combination of radios are called and the possible connection between portable and mobile radios.