RT-1594/PRC-127

is a non- tactical handy portable radio of the Army, manufactured since 1996. It was used e. g. by the Military police.

Bendix King developed it from commercial portables. Some features (like priority channels and memory scan) were left out, others
(like programming via key pad) were added.


---
PRC-127A
uses the same housing as PRC-127. It also is programmed via the keyboard, but has two memory banks of 14 channels each.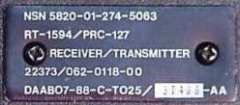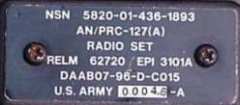 ---
Non-tactical radios
RT-209/PRC-21 and PRC-127
(Click picture to enlarge)
---
Frequency range:

136 ... 160 MHz

---
Technical data:

Channels:

PRC-127: 14 ( 1 memory bank)
PRC-127A: 28 ( 2 memory banks)

Channel spacing:

25 / 50 KHz.

Frequency control:

Synthesizer.

Modulation:

FM.

HF Output power:

3 Watts.

Sensitivity:

0.25 µV.

Power supply:

AA cells or NiCad- batteries.

Specialities:

Lid covers keyboard.
An extra speaker/mike can be used.